Lopeta and her family moved into one of the first State homes to be completed as part of the Northcote Development. Lopeta has lived in Richardson Place for over 10 years. Her new home, which she describes as "fresh and clean, and quiet," is on Tonar Street, and it's just around the corner from Anne Maree Rest Home where she works six days a week.
Lopeta is much-loved by all at Anne-Maree Court. She's the unofficial fa'e, or mum, of all the new staff – everyone comes to Lopeta for information, advice and support. Since moving into her new home, Lopeta now walks to work.
Lopeta is the main breadwinner for her family since her husband of 38 years, Ofa, had a stroke. "But he's getting better now. He's going for some really nice walks."
Lopeta and Ofa have seven children, but only three still at home – Troy, 19, Peni, 16 and Aisea (picture), who is 11. The others have grown up and flown the nest, but not too far – most of them have stayed local, as have Lopeta's own five siblings.
The family moved to New Zealand from Tonga in 2002 and lived in Cadness Street before they moved to Richardson Place. They were told that their house was on the demolition schedule early last year. The news was a bit of a shock. "It was a good house," says Lopeta. "The garden was big – good for hangis. All the children played together and sometimes we would put up a tent as well and have parties. But that garden is too big for me now. It was hard for me to get time to look after it."
The move into the new home was easier than Lopeta thought it would be. The family had time to get used to the idea, and the fact that some of their friends and neighbours moved with them was a huge bonus. Another Tongan family, a Māori family and an Iraqi family from Richardson Place have all moved to neighbouring properties in Tonar Street. Housing New Zealand organised it all, says Lopeta, and it went very smoothly.
Family from Australia came to visit for Christmas last year and were impressed; they posted photos on Facebook. Lopeta says, "Half an hour later, our other family in Perth was calling and saying, 'Wow – so beautiful!'" She's proud of her new home, and spends a lot of time cleaning, tidying and keeping everything spotless. "We are so lucky."
The kids used to share bedrooms so they are all happy to have their own space. They love to bring their friends home now, and one of Lopeta's granddaughters visits often to hang out with Ofa. The little garden is becoming established and next summer Lopeta is looking forward to getting some vegetables and taro growing. There are no more hangis ("too much work anyway!" says Lopeta), but last summer the barbeque on the back deck had a good workout.
"Now, at the weekend, we don't go anywhere but church – we just want to stay here. My husband likes to sit on the balcony and look at the street. It's a nice atmosphere. It's quiet and we sleep very well. It feels a lot more safe."
It's also warmer. Poor insulation in the Richardson Place house meant it wasn't much fun when the temperature dropped. But this year the family is enjoying a much cosier winter in their new home.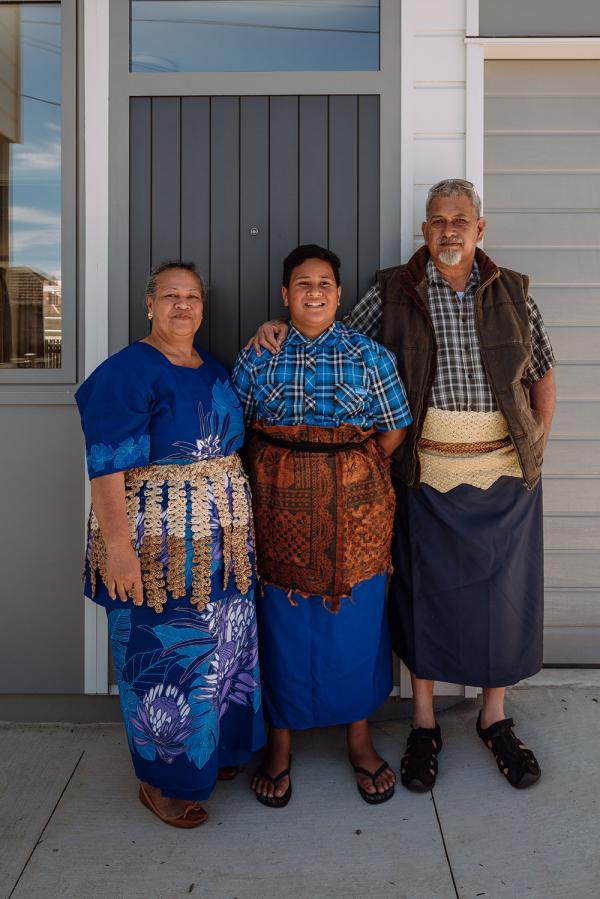 Lopeta, Aisea and Ofa. Lopeta and Ofa have two other teenaged boys still living at home.