Who knew that baby eels could climb? Recently, we spoke to Umesh Daya, Kāinga Ora's Northcote Development Project Manager, about how the new Tonar Street stormwater pipeline is creating a safe passage for our infant eel population to head up the pipeline and into the deeper waters of Akoranga Reserve. Height and steep inclines do not deter the eels from reaching their goal, they can climb up to 40-metres using surface tension and friction!

The life cycle of New Zealand's endemic longfin eel is pretty fascinating. Infant eels, known as 'elvers' migrate and climb upstream to find suitable habitats where they can grow and mature. Longfin eels have an extraordinary lifespan. Once they reach adulthood, at around 30-80 years, eels spend months swimming to warmer tropical waters near Samoa and Tonga, where they breed and eventually die. Their eggs float back to New Zealand on ocean currents and the cycle begins again.

The Healthy Waters initiative led by Kāinga Ora and Piritahi Trust was conceived in partnership with mana whenua to help preserve and nurture the unique biodiversity of our local waterways and streams. Northcote's Te Ara Awataha Greenway is connected to this initiative, with the daylighting of the area's historical Awataha Stream.

The design and construction of the Tonar Street stormwater pipeline was a critical piece of infrastructure required to progress Northcote's housing development and deliver more healthy affordable homes. But this wasn't its only success criteria. Kāinga Ora and Piritahi Trust worked closely with local iwi and Council to add another special element to the construction and design.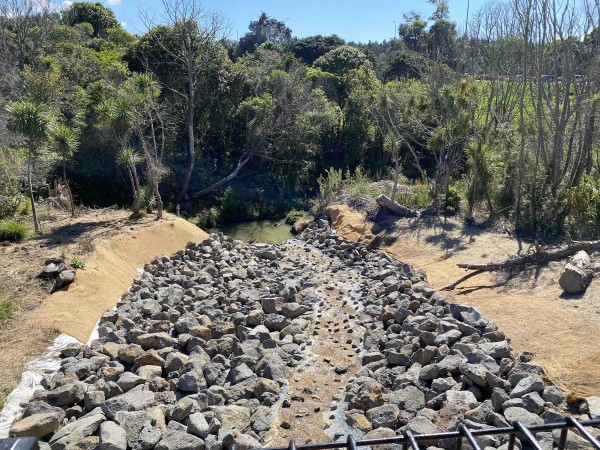 The rip-rap (pictured above) is a wet and rocky climb upwards towards the Akoranga Reserve outlet. It was engineered to assist with the elver's passage out to deeper water. Daya says the success of this project has been particularly heartwarming and shows that when handled well, 'development can happen without disrupting the biodiversity of particular areas."