Let's explore the living green corridor that links homes, schools, parks and reserves.

A greenway is a green 'corridor' designed to make it easy and pleasant for people to move around part of a neighbourhood or city. Northcote's new greenway follows the path of the former Awataha Stream to the sea and forms a network of parks, public spaces and quiet streets that provide a safe and healthy environment for people, plants and wildlife. Some greenways, including this one, provide for the movement and cleaning of water as well. When completed, Northcote's Te Ara Awataha greenway will connect the community to local destinations, schools, recreation spaces, public transport stops, the town centre and access to the wider city cycle network. The project is a collaboration involving local mana whenua, Kāinga Ora, Panuku Development, and Auckland Council Healthy Waters.

Native planting, wayfinding signs, and designs on balustrades and pavements will help tell stories about Northcote's natural landscape along the greenway. Mana whenua artists Janine Williams and Reuben Kirkwood are bringing matauranga Māori to life through artworks – etched basalt touchstones alongside the Awataha Stream and a series of kaiārahi (guides) carvings to act as markers for people as they explore the pathway.

The initial groundworks for the 1.5km greenway began in October 2020 and completion is planned for early 2022. Te Ara Awataha development includes three main hubs, Greenslade Reserve, the 'Schools' Edge' and Jessie Tonar Scout Reserve.

A boost for Greenslade Reserve
The transformation of Greenslade Reserve is underway. The goal is to create a new recreational facility and address the problem of local flooding. The construction completed in stage 1 will allow for the development of new homes and the creation of wetlands nearby as part of the Greenslade stormwater mitigation project.

"Stage 2 began in October last year," says Kāinga Ora Northcote Project Director, Aileen Maniti. "The sports field is being lowered by around 1.5m – which will also help to mitigate flooding in the area – new turf will be laid, and irrigation systems put in place."

On the Schools' Edge
Panuku's Greenway Project Lead Sara Zwart says the 'Schools' Edge' is an inspiring example of integrating both mana whenua and local community-led design. This section of the greenway was co-designed during a range of workshops with mana whenua, the Community Reference Group, Onepoto Primary, Northcote Intermediate and Northcote College, along with Healthy Waters and Panuku and Kāinga Ora development teams.

"Our approach to the project has been about enabling mana whenua to realise their role as Kaitiaki, whilst building tiakitanga (stewardship) within the community," says Sara. "We hope this will instil a real sense of guardianship over the greenway."

The Schools' Edge runs alongside Northcote Intermediate School and Onepoto Primary School. Work on this section has begun and includes an outdoor classroom for the adjoining schools. This will be a learning deck and terraced seating to provide an open-air learning space for students.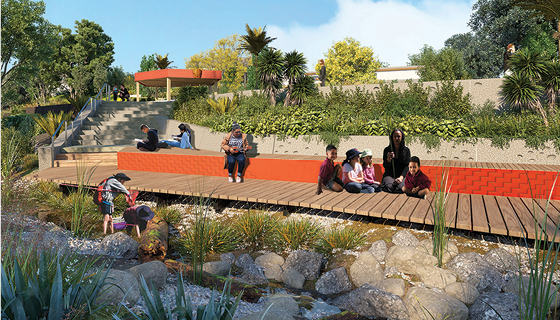 The outdoor learning space at school's edge

Join us at Jessie Tonar Scout Reserve
The heart of the Te Ara Awataha project is the community-led restoration of Jessie Tonar Scout Reserve, located at the end of Kaka Street. With mana whenua as kaitiaki, the Kaipātiki Project is leading the restoration, a collaboration that includes Panuku Development and Auckland Council.

By working with Northcote communities, funders, supporters and passionate volunteers, the Kaipātiki Project facilitates forest, stream and estuary regeneration days, they promote zero waste and run a teaching garden to encourage local food initiatives. And they do it with more than 800 volunteers annually.

The Jessie Tonar Street Reserve is a significant area of bush that is also home to the puna (spring/source) of the Awataha Stream. The reserve is being restored with the help of the Kaipātiki Project's thriving native plant nursery. More than 40,000 native trees are grown here every year that are planted back into local reserves.

Accolades
Panuku's mahi on Te Ara Awataha has earned it the GHD Award for Environmental Leadership in the recent Taituarā – Local Government Professionals Aotearoa Awards. Plus, the Commonwealth Sustainable Cities organisation has selected Te Ara Awataha as a good-practice case study.

The mauri of Te Ara Awataha
Te Ara Awataha greenway follows the path of the Awataha Stream. As kaitiaki, local mana whenua have been involved in Te Ara Awataha greenway project since the beginning.

A deeply important part of the project has been the successful work of daylighting parts of the Awataha Stream. The waterway was diverted underground in the 1950s and, as part of the new development, mana whenua wanted to see the nourishing mauri (life essence) of the stream return; reconnecting the community with this lost taonga (treasure).

The restoration work led by mana whenua and the Kaipātiki Project uses indigenous indicators and understandings alongside western ecology and science to boost the mauri of the stream. The work is to improve its water quality and allow it to become a habitat for birds, insects and tāna (eels) once more.

Take Mauri, Take Hono
Created specifically for Te Ara Awataha project, Take Mauri, Take Hono is a tool designed by mana whenua. It's a new approach to restoration and development work, says Kaipātiki Project's Kaitakawaenga Hapori (Community Activator) Sam Tu'itahi.

"Within Te Ara Awataha we look at ecological aspects of course, but the Take Mauri, Take Hono tool is more than that," he says. "It considers community pride and ownership, it asks if there are employment and education pathways as part of the restoration and development. We look at environmental and cultural indicators. The tool offers a real way to include the local community and how they can grow tiakitanga of their greenway."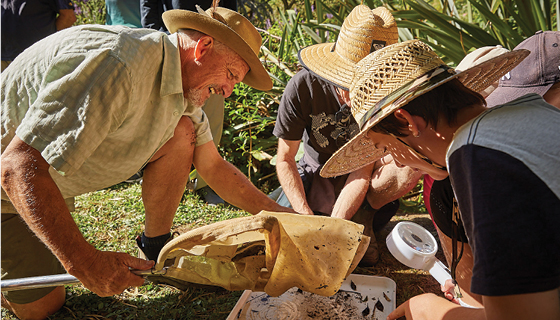 The team at work at Jessie Tonar Scout Reserve.
Local mahi recognised with award
Northcote's Kaipātiki Project was honoured at the celebrations of Mayoral Conservation Awards in November last year.

The ceremony was attended by amazing volunteers, community groups, representatives of Auckland local boards, and former Auckland Deputy Mayor Penny Hulse and Auckland Mayor Phil Goff.

The Mayoral Conservation Awards recognises organisations making a significant contribution to Tāmaki Makaurau's environment. The work of these groups is focused around protecting our native species, and making our city a greener and more sustainable place.

Kaipātiki Project won the Collaboration Award for Te Ara Awataha and Jessie Tonar Scout Reserve regeneration initiative. With local mana whenua as kaitiaki, Te Ara Awataha is being jointly delivered by Panuku Development Auckland and Kāinga Ora, working alongside Healthy Waters, the Kaipātiki Local Board, and Kaipātiki Project.

"We are humbled by the recognition and energised seeing all the mahi that is carried out by amazing individuals and groups," said the Kaipātiki Project team.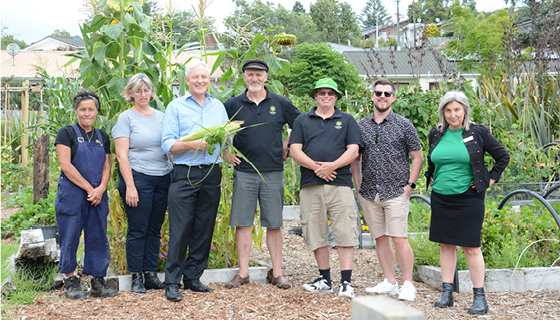 Following the awards, Mayor Phil Goff (with produce from the garden) and Councillor Richard Hills (second on right) visited the team at the Kaipātiki Project native plant nursery and teaching garden.