Northcote Development is bringing around 1500 brand-new homes to the neighbourhood, including 480 state homes. About 100 new state homes have already been built – on Potter Avenue, Greenslade Crescent, Tonar Street and Cadness Street – and residents have moved in. The mahi to make it all happen will deliver further homes in batches, and it's estimated all new state homes will be built by mid-2024.

This year, construction will commence on 277 state housing apartments across 13 apartment buildings in Northcote, most of which are five to six-storeys tall. The state housing has been designed by New Zealand architects Ashton Mitchell, Chow:Hill, Context Architects, Isthmus, Monk Mackenzie and Australian practice, Intro Architecture.

A variety of reputable Kiwi construction companies are building them. "With such a large portfolio of new state houses to deliver, we wanted to make sure contractors from our pre-approved, multi-level panel get an opportunity to tender on the project. There will be at least nine different head contractors building the state-housing dwellings," says Mark Brennan, Kāinga Ora Programme Manager for state housing in Northcote – large-scale redevelopment area.

All homes in Northcote Development – state, KiwiBuild and open-market – are built to a 6 Homestar standard, which exceeds NZ Building Code requirements. Nearly a quarter of Northcote Development's new state homes will be capable of accommodating clients with a range of disabilities, such as mobility issues, limited sight and hearing and brain injuries.

Groundworks have started on some of Northcote's state home sites – you might notice some activity happening on the corner of Greenslade Crescent and Kaka Street. This area will eventually be home to three six-storey buildings, one of which will be dedicated pensioner housing, with 35 one-bedroom apartments. This building's apartments are "universal" design, meaning they're designed to accommodate residents as their requirements change over time, without them having to move out of the building.
Three ground-floor pensioner units are wheelchair accessible and all residents above the ground floor must be able to self-evacuate. They will be regularly assessed to make sure their homes are a match for their physical abilities. There will also be secure parking and charging stations for mobility scooters.

Three new six-storey buildings planned for 177-193 Lake Road will be the hub for Northcote's state house tenants. The ground floor of each building here will contain support services, including the Kāinga Ora – Homes and Communities tenancy management office for the North Shore, which will relocate from Takapuna.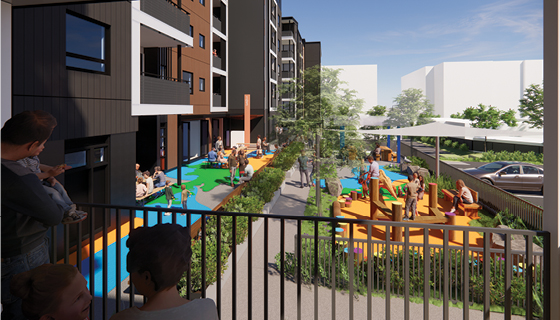 State home apartment buildings will have dedicated spaces for residents to enjoy. Shown here is a children's play area at 177-193 Lake Road.

Across Northcote Development's state apartment buildings, there will be dedicated communal areas for the exclusive use of each building's tenants, including indoor and outdoor spaces, children's play areas and community gardens, and open-air parking.

Artists will be commissioned to paint murals in indoor community spaces and there are plans to host classes for residents, such as cooking demonstrations and computer lessons. "Community development activities will be organised depending on what residents would like when they move in," Mark says.

All of Northcote's existing state house tenants were offered the Kāinga Ora 'Choice to Return', meaning if they wished to remain in Northcote after moving out of their old homes, Kāinga Ora would try its best to make it happen. Tenants might have lived in individual houses on sections before, but Northcote's new state homes are medium-density – with apartments and terraced homes – to make the most of the land available.

What are the advantages of living in the new-look Northcote? Mark says the convenience of the location is a major factor. "You're only 15 minutes from the CBD and you're in walking-distance of new reserves, Te Ara Awataha - a greenway for Northcote and the town centre. Public transport is there and you don't have to maintain an 800-square- metre block – someone else is there to do it for you. And with the North Shore tenancy management hub moving here, you have support right on your doorstep."
Click here to see the locations of Northcote's new state homes.
You can read more about what is happening in Northcote in the latest issue of Everyday Northcote here.