At just a 15-minute drive from Auckland's CBD and with significant investment in infrastructure and housing over the coming years, Northcote is a great place to live and getting even better. But what's city-fringe living if you can't dine out?
The Northcote community is spoiled for choice when it comes to dining destinations. With a host of multicultural eateries in the town centre, and in close proximity to some of Auckland's chicest restaurants and eateries in nearby suburbs, it's little wonder so many people want to live here. Because no matter your preferences, cravings or budget, there's something on the menu for you in Northcote.
International fare and Kiwi classics in the heart of Northcote
Northcote is a multicultural suburb, so it's no surprise that the town centre is brimming with international food options. For a taste of India, head to Curry Corner for crispy, hot off the griddle Murtabak stuffed with tandoori chicken, onions and beans. And for traditional Chinese delicacies, you can't look past Dumplings Ace for fresh, flavoursome dumplings at friendly prices.
Authentic Thai food is also on offer at Khun Pui Thai Food. They've got all the favourites, including Pad Thai and satay skewers. For Korean noodle and rice dishes galore, Man Du Rang is the place for you.
There's no shortage of Kiwi classics either. Enjoy crispy-shelled potatoes at Roast Valley, or opt for the classic at Busy Horse Fish and Chips. And if you're looking for the 'best burgers on the shore, ' you'll find them just a short drive down the road at the Flaming Onion.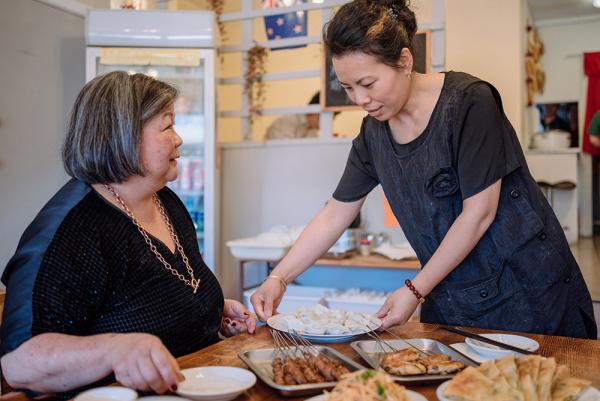 Dumplings Ace.
Fine dining, workday bites and weekend brunch spots in ten minutes or less
Bordering neighbourhoods Northcote Point, Birkenhead and Takapuna are attracting foodies city-wide. Weekend brunch at Takapuna Beach Cafe never disappoints, and a stroll down Hurstmere Road or the Strand will provide endless opportunity for a great eggs bene.
For a mid-week workday bite, look no further than the Goodside, a brand new food precinct in the heart of Smales Farm housing boutique food purveyors and beverage artisans. Choose from Auckland's finest including &sushi, Ripe Deli, Goodness Gracious and more.
Celebrating a special something (or someone)? Make it fancy at the Engine Room in Northcote Point, or choose from the incredible beachfront restaurants along Takapuna Beach.
'The local': Coffee, beer and a very good drop
Wake up and smell the coffee at Glasshouse Cafe on Akoranga Drive. They've got a great selection of coffee alternatives too, such as turmeric lattes, matcha and more. And if hot beverages aren't exactly your thing, take a six-minute stroll down the road and enjoy a locally-brewed beer at the Beer Spot.
Further afield and not to miss, Takapuna's hole in the wall coffee bar, Holy Shot, is the locals' choice for a grab and go, best enjoyed with a walk on the beach. If you'd rather 'have here', Ark Coffee Company serves speciality roasted coffee in a small, cosy roastery just off Lake Road.
A carefully curated selection of craft beer and wine can be found at Stafford Road Wine Bar in Northcote Point, paired with a fresh, seasonal menu all year round. Takapuna's beachfront bars have cocktails, mocktails and everything in between, perfect for those balmy summer evenings after a hard day at the beach or shopping up a storm.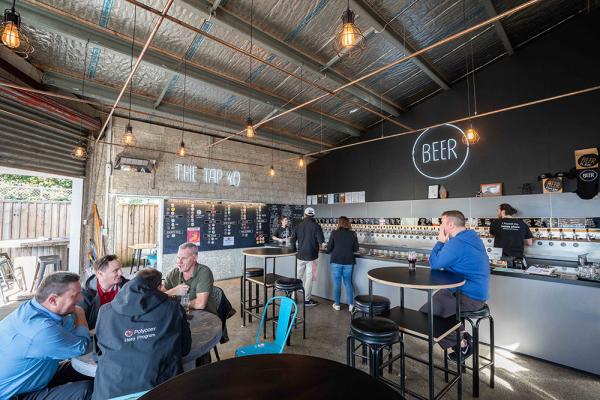 Beer spot is located at 54 Northcote Road
Feeling hungry?
Visit the Northcote Information centre to find out more about the homes for sale so that you can live close to the action (and the eateries) at a more affordable price. Located in the Northcote town centre car park and open Wednesday to Saturday 10 am to 4 pm.